File Restore Software - Restore Files from Emptied Recycle Bin
Speedily Restore Files by using Best File Restore Software & File Restoration Tool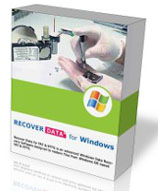 Recover Data origination recently updates our prime Windows file restore program that will helps to restore deleted files and folders from Windows FAT - NTFS partition based hard disk drive. With the help of this file restoration tool any technical and non-technical users can also recover and restore Windows partition data which were accidentally deleted due to any reasons.
Recover Data for File restore software allows you to recover data even if Master Boot Record (MBR), DOS Boot Record (DBR), Boot Sector, Partition Table, Root Directory, File Allocation Table (FAT) entries or Master File Table (MFT) entries are corrupted, deleted, formatted or damaged. File restore program is an effective and efficient file restoration tool can easily support multi storage media devices including like: - Pen Drive, Hard Drive, Floppy Drive, USB Digital Media & etc. You can successfully restore files lost from recycle bin by using best file restore program without taking any extra efforts.
Restore Files/Data from Windows FAT16 / 32 / NTFS & NTFS5 partition with Recover Data for File Restore Program.
The File Restore Program having best recovery engines to restore files deleted from Windows drives; software guides you to step by step recovery method for simply restore your files/data. Recover Data for Windows file restore software uses four types of recovery modes for provides you reliable data recovery results in a very short time.
File Restore Program Provides Multiple Feature:
Restore files from FAT12, FAT16, FAT32, NTFS & NTFS5 partitions.
Restore data even after drive has been formatted.
Restore deleted files/folders even after recycle bin has been emptied accidentally.
Restore files from deleted partition, lost partition, formatted logical drives.
Preserves long file names when restoring files/folders after data recovery process.
Multi-Disk Drive Support - Performs Data Recovery on all IDE, EIDE & SCSI disk devices.
Supports recovery of compressed files.
Software provide Load Log & Save Log feature - To resume data recovery process later & to save time.
Advance Search features - To search for particular files from the list of Recovered data.
Difference Between Evaluation Version & Full Version of Recover Data for FAT & NTFS
1. Full Version of Recover Data for Windows file restore program is fully featured with all the four Recovery MODES such as Quick Scan, Exhaustive Scan, Raw Recovery & Disk Imaging. Every mode uses different method to provide best recovery results.
2. Evaluation Version restricted user to save restored files, Evaluation Version allows user only to see deleted files but not to save deleted files, Evaluation Version of the software is only for evaluating the recovery process of the software. Full Version is the fully featured software and this will allow you to restore deleted files/folders from Windows hard.
Recover Data for Windows FAT & NTFS
[Primary Location]

Recover Data for Windows FAT & NTFS
[Secondary Location]

Considering the results of DEMO version, now Order FULL Version of Recover Data for FAT & NTFS. You can purchase Recover Data for FAT & NTFS using one of our Payment Gateway as follows:
Buy Online - File Restore Program

Recover Data for Windows FAT & NTFS