Access File Recovery - Repair Corrupt MDB Files
Access File Repair Software - Recover & Repair MS Access Database
Recover Data for Access Recovery software is advance Access repair tool to repair corrupt MDB database. Access database recovery Software sucessfully repair corrupt access database, files and restore mdb files that has been corrupted due to viral attacks, unexpected system shut down etc. Access file recovery thoroughly scan the corrupted access database files and creates its new working copy.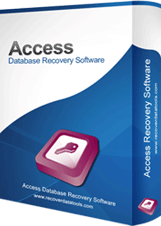 Features - Recover Data for Access File Recovery Software
Restore memo data and original date format.
Repair Access files even they are not opening.
Allows to copy recovered password to the clipboard.
Support MS Access 2003, XP, 2000, 97 and 95 Databases
Restores all the tables, Reports, Queries, Pages and forms.
Restores the key data, structures such as auto number, unique key etc.
Recover password protected MDB Databases even if the password is unknown to the users.
Repair corrupt Access database and see the preview of recovered MDB data before saving.
Recover Data for Access file repair software is a complete solution for corrupted access files (.MDB) created using different versions of Microsoft Access (MS Access 2003/XP/2000/97/95). Microsoft Access (.MDB) files may get corrupted due to following reasons:
Corruption due to Virus.
Power failure,
Improper System shutdown while using Microsoft Access,
Bad Sectors in hard drive,
Hardware malfunction &
Software malfunction and many more.
Recover Data for Access Database Recovery Software successfully restore tables, queries, relationships, forms, reports, pages, macros, modules and repairs password protected MS Access database or mdb files. Use Access database repair software to safely repair corrupt mdb files, fix access file and restore mdb files.
Recover Data for Access file recovery tool or Access recovery software restore mdb files even if it is showing any type of error messages such as ----
Unrecognized file format.
"***.mdb" cannot be accessed.
"database.mdb" isn't an index in this table
The Microsoft Jet Engine can't open this file.
"Enter password", When no password should be required.
Visual Basic for Applications Project in This Database is Corrupt.
Microsoft Access has encountered a problem and needs to be close.
The database needs to be repaired or its not a Microsoft Access file.
Program crashes with error message 'Invalid Page Fault' when opening the mdb file.
You do not have the necessary permissions to open this object. Please contact your system administrator.
Difference Between Evaluation Ver & Full Ver. of Recover Data for Access Recovery Tool
Evaluation Version restricted user to save restored files, Evaluation Version allows user only to see the repaired files but not to save the files, Evaluation Version of the software is only for evaluating the recovery process of the software. Full Version is fully featured software and this will allow you to recover your corrupted Access files or restore and fix access files.
Download the DEMO Version of Recover Data for Access Recovery - TRY BEFORE YOU BUY. See your corrupted files using DEMO version before you decide to purchase!
Primary Download -

Secondary Download -

Considering the results of DEMO version, now Order FULL Version of Recover Data for Access. You can purchase Recover Data for Access Recovery using one of our Payment Gateway as follows:
Buy Online - File Repair Product

Recover Data for Access Recovery
[ Home-User License ]



$ 99

$ 99

Recover Data for Access Recovery
[ Corporate License ]



$ 169

$ 169

Recover Data for Access Recovery
[Technical License ]



$ 229

$ 229
Compatible with

Compatible with

Software Screenshot